About The Company
The medical sector is already growing at a phenomenal rate in this era of rapid development. As an outcome, market has also risen for various medically used products and to them, our company, Surgimart Surgical India Private Limited has supported the industry with many types of Disposable Medical Products as a manufacturer and supplier. In the year of 2017, we started our company to provide a broad spectrum of products, such as Disposable Shoe Cover, 43 GSM Lab Coat, Disposable Surgeon Gown,Disposable Bed Sheet, Disposable Surgery Kit, Knee O Drape and so many more. All of our medically utilized goods are designed and developed with utmost precision by our highly qualified team of experts which also ensures that they comply with top quality standards before being finally shipped.
Mission
The mission statement of our company can be represented by the below given points:
To our customers give specific instructions about the usage & management of the products we offer.
To be a company that promptly supplies the health care goods.
To deliver goods that are precisely checked by our team of technicians having varying expertise levels.
To ensure that the medical supplies we provide are prefect fit for medical usage.
Vision
Our vision is to be a company that gives its customers the best medical supplies which are reasonably priced, convenient-to-use, safe, and also curable. Moreover, we also aim to stringently conform to international standards while manufacturing our goods like 43 GSM Lab Coat, Knee O Drape, Disposable Shoe Cover, Disposable Surgery Kit, etc., and ship them to the customers on-time.
Team & Quality Policy
We have formed certain quality policies in our company according to which our team operates. From the sourcing of raw materials, to the development of products, their testing, packaging and shipment, all processes are ensured to be of the best quality by our team.
Infrastructure & RND
We are backed by a modernly constructed infrastructure which also comprises a research & development division. Consistent research work allows us to develop the best quality of medical supplies including Knee O Drape, Disposable Surgery Kit, 43 GSM Lab Coat, Disposable Shoe Cover, etc., in the infrastructure.
Corporate Social Responsibility
Employment is the greatest way in which one can help the society and our company is strongly supporting this cause. We give employment to most of the men & women and provide them with equal pay for the job they do, but we always abstain from child labor which is strictly forbidden.
Certificates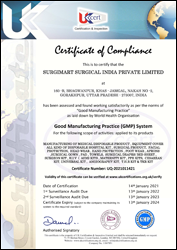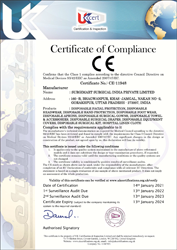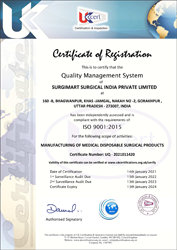 Read More